Super 7 Electric Windowsill Seed Propagator - Super 7 Electric Windowsill Seed Propagator
Main Content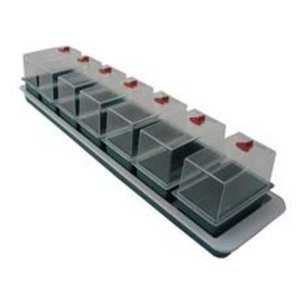 Super 7 Electric Windowsill Seed Propagator
Create a wish list:
Garland Super 7 Electric Propagator
15 Watt Carbon Fibre Heating Element in the base
Fixed Temperature, the soil is kept at 8 degrees C above the ambient room / greenhouse temperature
Seven individual, vented propagators in one unit - 2" Deep, quarter size seed trays with 2.75" High clear lids - the inside of each tray measures 5.5" x 3.25"
Main tray measures 30" Long x 7.5" Wide
Grow several different varieties of seed at the same time!
Clear covers in flexible, shatter-resistant material
You can use this unit year after year!
Will provide rapid and strong plant growth
The Garland Super 7 Propagator is IN STOCK for next-day delivery with 55" lead and fitted plug
12 month Manufacturer's Warranty & our 14-day No-quibble Guarantee
Reviews
There are no reviews available.